Today's post is a rerun, first posted several years ago in honor of my paternal grandmother. The original post was a day late, and I said at the time, from what I remember of her, she would be happy to have the greetings and tardiness would be overlooked with that smile I remember so well.  Her birthday was November 10, a date shared with Martin Luther.  In 2013 I deliberately decided to post on November 11, and thought I might continue posting one day late, turning it into a tradition, which I believe would bring a smile to her face. This year the post was going to be on time, perhaps tradition stepped in and I'm once again remembering my grandmother's birthday a day late.
       Hattie – a name you don't hear too much anymore, in this case short for Henrietta, my Grandma Buelow who, if she was still with us, would have been 125 years old yesterday. She passed away at age 85 and played a significant role here at Her Father's Homestead. She came as a young bride in 1907, when she married my grandfather, Henry Buelow. That's right, Henrietta Jantz married Henry Buelow, as you can see in their wedding invitation.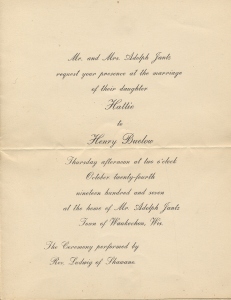 That's where I first saw her referred to as Hattie. She came to the Homestead and built a life here, raised ten children, seven boys and three girls, all born in this wonderful old house I call home. She lived here until she passed away, cared for in her later years by her son, my Uncle Elmer and his wife, my favorite Auntie Arlene, well known to readers of this blog. In fact, today would be Elmer's birthday along with his twin, Alfred. Yep, a day after her 28th birthday, my Grandma Buelow gave birth to twin sons.
      We saw Grandma often, as on any given Sunday we'd drive to what my Dad called The Farm, the place he grew up along with his brothers and sisters, the children of Her Father's Homestead, and the place we visited with those aunts, uncles and cousins, because this was where Grandma lived. So many memories… A white-haired Grandma, saying grace in German and smiling; I remember her smile just like you see in the picture in the barnyard with my Grandpa, who passed away long before I was born. 
                                                                                                           Hattie is Happy
That photo is a bit unusual for its time in that it shows what's today called a public display of affection – Grandpa has his arm around her, she's snuggled into him and is holding his hand and she's smiling. In the background of that photo, you see her brother-in-law, the gentleman with the hat, and also her son, my Uncle Elmer, hatchet in hand if you look closely, whom I remember with a great smile and a quick laugh, who'd be 97, today, if he was still with us.
The last photo, again a smiling Grandma, in front of what may be the old lilac tree at the corner of the house where I live.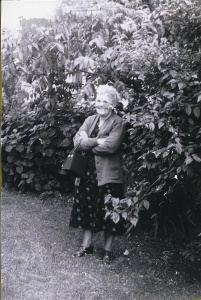 My Grandma Buelow would be 125 years  
   old and her memory is alive at well here
               at Her Father's Homestead.