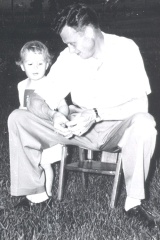 This site is now nine years old and needed an update. Time has moved on and life looks very different in 2017 than it did in 2008 when the blog began. There was a time and a place out in the country, rural Wisconsin, nearest neighbors not even visible when the leaves were on the trees, fourteen acres of fields, outbuildings – a homestead. That wonderful place became home and I went to it broken and hurting. I went home to what I called Her Father's Homestead because that is what it was, literally. My father was born in that house nearly 92 years ago, as well as his nine brothers and sisters. His father before him was born there, too, and I believe that it was my Heavenly Father who brought me to shelter there. Her Father's Homestead was a most appropriate name.
     Old houses have stories; they are full of history. The future of that wonderful old house was going to be a future of wholeness, a healing place for others as it had so definitely been for me, a homestead with a mission, again so appropriate as my father is a minister.
          As life progressed, I had wonderful years there, made new friends, established a new piano studio, and reconnected with family and friends from the past. I gardened and grew flowers, tended the very old lilac tree that my grandmother had tended, along with her peonies, bleeding hearts, purple hyacinth, and wonderful juicy red raspberries. I hung wet laundry out to dry; my younger daughter always said with laundry drying in the sunshine, it looked like a real farmhouse.
          Then clouds entered my world, a nasty form of brain cancer, from which I recovered better than most, and I was able to resume teaching and living the dream in a place I loved, away from city lights and traffic, under a night sky loaded with stars, constellations and planets, even brilliant northern lights. Once again, a dark cloud appeared. My medical team suspected a return of the virulent cancer and a second neurosurgery was scheduled. No return, nothing serious. The next cloud arrived in the form of a fall on the icy driveway during one of Wisconsin's endless winters. The result was a concussion and side effects. I hung on with both hands to a life I loved, despite the odds.
     It entered my mind that perhaps my plan was not aligned with God's plan, but I knew better, at least I thought so. My mission was clear; I had Her Father's Homestead and a dream. Next came a serious accident that totaled my truck, but from which I walked away with only minor injuries. I was still not ready to give up and the final blow was a seriously broken leg, surgery, titanium rod and screws, initially a wheelchair, followed by a walker, and then a cane. It is fairly challenging to move snow while one hand is hanging on to a railing, and the other, a shovel. This was clearly not working and the message was becoming louder. Her Father's Homestead had fulfilled its purpose in my life and it was time to let go.
          The Homestead dream lives on and the mission remains. With all that has passed through God's loving hand into my life, I did not, and will not, lose hope, faith, or give up. It did, however become clear that I was no longer able to manage that piece of family history and the heart of Her Father's Homestead moved south, where the need is greater. I am as confident as ever that God will see me through the next chapter of the story that was written before I was born.
      What follows is a "copy and paste" of a piece posted on my Musings page in January of '09. It simply expands on the who and why of the Homestead: It Doesn't Happen in a Neighborhood Like This
     "That's what the neighbor said on TV. Another woman is dead, killed this morning in a nearby county by her husband and people are shocked because it doesn't happen where they live. Sound familiar? It sure does to me. I've been there and even said those words. People in my former neighborhood weren't out brawling in the front yard with their spouses, let alone being abused or even killed. But behind closed doors….
     When I finally began to deal with my situation, to feel it was perhaps time to speak up and speak out, one of the things that kept circulating through my mind was "Who would believe me?" Look at us – we looked pretty good. We had the house, a great house, a great yard, a great pool. I had a cleaning service, a lawn service, help with the laundry, help with the cooking. I had jewelry, clothes, the fur coat, awesome vacations, vehicles, the grand piano. I gave fabulous parties in my fabulous home. We were the go-to people in our church to get things done, in the pew every week 20 minutes early. Who would believe me? Look at us….
     Jesus described us perfectly, though. He wasn't addressing a domestic situation. But He could have been standing on my deck, looking through the patio doors into my beautiful kitchen when He referred to white-washed graves full of dead men's bones and all unclean things. (Matthew 23:27) We did indeed look beautiful on the outside. Who would believe me?
     The neighbor being interviewed on TV today was shocked. "It doesn't happen in a neighborhood like this," and another woman is dead at the hands of her spouse or significant other.
     This isn't the post I had planned for today, but I still struggle. When I hear about another abused or murdered woman my heart aches for her. Did she have children, children in that home? children who feared for their mom's safety? I sit here now in tears. Did she wonder if anyone would believe her?
     And though I wondered aloud earlier this week about whether I was on the right path with this big dream of Her Father's Homestead, I know in my heart that there is a need, greater than most people even want to acknowledge, for this dream of mine. And I believe as firmly as when I first arrived here that this old farm will be the place of healing for others that it has been for me. There is hope and there is healing and there is wholeness. I thank the Lord daily for bringing me here. And now it's my turn to give back. If you have a need, reach out; I will listen and I will believe you. Fill out the Contact form; I will respond. Together we will find a way. Be blessed†"