One day in February 2010, I spent great time with a wonderful young woman, very dear to my heart, who was about to embark on a journey, to live and study in Spain for a semester.  The next day I wrote about her in a post titled Bon Voyage, My Friend.
Two-and-a-half years have passed.  She has graduated from college, moved to another state for her first "real" job, which was contracted for a year, moved back to WI and most recently,  became engaged to be married.  On Sunday, I attended her bridal shower, important to me for several reasons, most of all because I will be traveling at the time of her wedding and will be a thousand miles away when she moves into this new season. 
Seasons of life are a Biblical concept, as many of you know, normal and natural, as Solomon wrote thousands of years ago.  Some are happy, some less so and some bring mixed emotions, but as the calendar changes and we move from one season to another, so it is with life.

I've not used her name when talking about her before.  Being me, I asked permission to write about her again and post a  photo.  Her name is Hannah, daughter of a minister and his wife, recently turned 23; she keeps growing more beautifully and gracefully all the time.  We get together once every couple months at a local book/coffee shop.  We share a sandwich, compare photos and update one another.
Having recently experienced the wedding/marriage of my Meghan, this is bittersweet for me, as it is for Hannah's mom.  We've spoken several times about the passages of time and life.  Hannah is in her last few months of being a single daughter, living for under her parent's roof until the wedding; all of our relationships with Hannah will change forever come December 28. That is how it should be and I am so happy for her, but it is another season and things will be different.

As I wrote in 2010, I've always said that Hannah is as beautiful on the inside as she is on the outside.  That has not changed, perhaps it is even truer now. That's what I thought as I observed her circulating through the room at her shower – greeting, conversing, hugging friends, family, interacting with her soon-to-be- in-laws, introducing folks – she's the picture of poise and grace.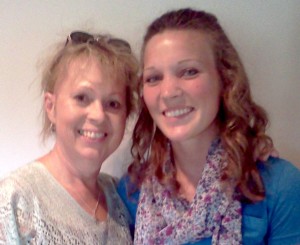 I'm so blessed to have her in my life and so thankful that this woman, young enough to be my daughter, calls me "Friend" 
Love and many blessings to you, Hannah, as you traverse the seasons and I look forward to watching it all unfold.