Readers know that I came of age in the late '60s and early '70s and that while my beliefs have matured, I still love rock'n'roll, now in the "oldies" category. One song written by Bowie and released by Mott the Hoople in '72 called for
All the Young Dudes
to Carry the News. I didn't start this cold, but sunny Saturday morning with the intent to put up another post. However, one of the habits I have yet to break is morning news. One of the features on the show I watch resulted in this change of plan. I will not grace this post with the name of the offending retailer, will not give them credence by mentioning their name. You can Google the topic and find out for yourself. The purpose here is not to call for rebellion or a boycott as I may have in my younger days. The point here is simple and direct – a message for moms, grandmothers, aunties (men, too, but I believe most of my readers are women) – carry the news to your daughters, granddaughters, nieces, girls of all ages within your sphere of influence.
What is the news? First, the news is that the eight year-old girls in your lives do not need the latest – a push-up swimsuit top to give the illusion of assets not yet developed. That's what got my attention – the latest trend being marketed to hit the beach in 2011 is a padded, push-up bikini top, aimed at the eight-year-old market. Not 18, not teenagers or adolescents, but little girls, pushing sexuality on innocence.
The concern for me here at the Homestead is the message that as women of all ages, child to aged, you're not okay, you're not good enough the way you are. It's about how you look, how you present yourself and it better be sexy and attention -getting or you're just not good enough for this culture.
The message is awful, but the NEWS to embed in young women of all ages, wherever you encounter them, is YES YOU ARE! You are good enough, you are valuable and you have great worth!! It's not about how the world perceives you, what the boys in your class may talk about, what you see in the media at-large – it's about you, a female of whatever age, and your immense worth and value!
Readers also know my worldview and belief system as distinctly Christian. You don't come back here often if expressions of God offend you. The concept is central to the subject at hand. Among the women with whom I work, I'm famous for the question – Do you know who you are?? Answer? You are the daughter of a king, not just any king, but the mighty Creator King of the universe – He is your Father and you are His treasured daughter and that, my friends, means something!
Carry the news, repeat it often, loud and proud – You ARE Worthy and of IMMENSE VALUE. Hold this deep in your heart, believe it and share it with those you love. I believe that women of all ages would make better choices if they were grounded in the belief of their innate value to an all-wise and loving Creator Father. Thanks for listening and have a beautiful day!

Say it with the prophet
Habakkuk
! Believing as I do that our Lord has a sense of humor among His many attributes, I believe He'll get my use of the title phrase. Sitting here home-bound by 18.9 inches of snow on March 23rd, I think it's a fair question, don't you? Not to mention that after the last "big storm" of the season, on February 20th, the starter motor of my fabulous, work-horse of a snowblower – electric start, self-propelled – burned out, dead, done, no start. Being so late in the season, I passed on replacing the motor till off-season. Big mistake as here I am facing a fairly large amount of snow, along with counties throughout the state, armed with nothing more than a shovel.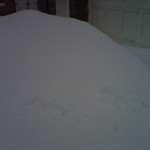 The photo shows what stands between me and getting my truck out of the garage. To be honest, I have help with that – usually – but back to that sense of humor. As things happen, the farmers that plow are having challenges with equipment and it'll be awhile before they get everything cleaned up. Meanwhile claustrophobic woman, as many readers may remember, is sitting telling here herself not to be silly. Of course I can breathe and it's all in my head so get over it 🙂 At least those who know me well will hear that I don't coddle myself any more than I do anyone else so there you have it, as my father is famous for saying.
Being the positive person I try to be, I'll tell you that the sun is shining brightly, the sky is a gorgeous blue and the temperature is twenty degrees north of zero – all a plus. But I will still ask how long and I still believe that the Lord is smiling right now and is certainly big enough to handle all my wonderings and I'm in good company. Besides the prophet Habakkuk, the Psalmist, David, asked a similar question.
I leave you for today with the thought that no matter what – a zillion inches of snow, brain tumors, family sorrows – no matter what, feel free to ask the questions and search for comfort! Have a fabulous day!

I certainly have heard that question lately and I will admit to being MIA these last eight weeks, more specifically the last three weeks. Where have I been? Finishing the first eight weeks of the sixteen-week spring semester, then last week a break before beginning the final eight weeks of this semester today. Between working and school and life I was staying under the radar, even missed church for a few weeks. I figured the Lord would understand as I was deeply involved in the study of Revelation/Daniel (by whose infinite wisdom do those two books make one course anyway?) and the Book of Acts in the other course.
Folks who know me get that on a good day I'm not big on phones or checking voice-mail, for that matter. Send me a text or an email, but when time is tight, I'm not likely to answer the phone unless you're one of my daughters, in which case I would know you by your very special ring-tone and definitely answer if at all able. Hey, I'm a mom and some things will always take precedence. I managed to continue teaching and to stay in touch with and share lunch with my special Auntie Arlene now and then, a priority for me. Lots of things have taken place in the last eight weeks.
There have been two major world events and and an ongoing piece of Wisconsin political gamesmanship – enough said there. The point is, I've been absent from a lot of daily events, but the world and life kept spinning as it should and always will. Family and friends had birthdays and vacations, ups-and-downs of all kinds. In the world -at-large, there's been a disaster in Japan and it appears we've become embroiled in another war or an act thereof. Those things make me and my life challenges seem fairly small. As I wrote recently in a post titled It's All Relative, it really is. My stressors seem minimal compared to earthquakes and tsunamis and pending radioactivity.
Where've I been? Flying low and taking care of business, thankful for continued health and the approaching five-year anniversary of my life-changing experience. Life is good and I've resurfaced successfully – having just received final grades in those last two classes and yes, folks, my withdrawal from the world paid off.
New adventures are ahead; two more classes before taking the summer off, a special trip to celebrate Easter, my birthday and being cancer-free for five years!! New endeavors on the business front and leaving an old one behind. Where've I been? Right where I'm supposed to be, I believe. The Lord's leading, opening the doors and I'm moving through them. What a wonderful place to be! Blessings!! Continue reading »

I cannot tell you how many times I've said those words since returning from my Christmas trip to ErinLee's. In fact, I used the phrase fairly often out there, too! When we were all bundled up to take the ferry across Puget Sound or wrapped in hats, scarves and gloves to walk into the city, we laughed about how cold is cold. Cold to Seattle residents meant temperature in the low 40s. Cold out here at the Homestead means temperatures south of zero and even south of -30 degrees as they're predicting for later this week. Then there's cold where my Meghan lives. She calls to let me know she took her car to work instead of her motorcycle because it's only 50 degrees. Only…
Our circumstances truly are relative. Things could always be more challenging, people more frustrating, you get the picture. So what makes the difference? Faithful readers know what's coming – you bet, another discourse on positive attitude! I swear, I will never tire of promoting the positive. Do I ever complain? Do I ever whine? My study partner might tell you she's heard something close to a whine. My girls might be rolling their eyes, but the point is where do you dwell? We all may venture into the negative from time-to-time, but it's a choice to remain or move out. I choose to move out.
It truly is all relative. I'm looking at two fairly challenging classes, probably the most intense so far. Relatively speaking, I can do this; compared to facing brain surgery and serious illness, at least my neurosurgeon was the best and there were no "oops's". I have all my faculties intact and it's actually therapeutic for this brain of mine to be challenged by studies. How's that? Relative to living with the side effects of an "oops" during surgery, I live with a few side effects that do not prevent me from living out the plan! It is truly relative – have a fabulous week!

This is a bit of a change-up, as we noted laughingly earlier this evening. For the nth time in the last four days, I've asked that question or another – Are we there yet, ErinLee? Reminiscent of days gone by, only the daughters were asking the questions then 🙂 As I admitted to her, I had had ample opportunity to prepare; I was warned, but as tight as time got leading up to my trip, I didn't do the incline work I should have. And I am telling you, as much as these folks out here are into food, they're also into walking and there are hills everywhere. Now we could have taken the train or bus more than we have, but I lean toward the proverbial
"When in Rome…"
So I've been eating and walking with the best of them, but today was definitely a challenge. Are we there yet, ErinLee? Almost. Really? "Only seven more blocks," Does that mean seven more hills? Good thing I ate so much today – all vegan, healthy and delicious – or these hills would do me in.
So we laugh and keep moving and talk about our next meal as we're climbing those hills. I did get some great photos along the way as well, maybe to provide photographic evidence that I really did all this. Tomorrow morning I'll likely be feeling the effects of today's efforts, but we'll head out again, going downtown to the Seattle Art Museum for the Picasso exhibit – a fairly big local event! As for food, we'll start fresh, having given my fabulous leftovers from dinner to a homeless man; I walked by the first one, carrying my take-home tray like a pro, but I couldn't pass the next one. I asked ErinLee if she'd mind and then asked the guy if he wanted some dinner. We shook hands and I wished him Merry Christmas and handed over that fabulous falafel and went on our way feeling lighter and better. Good thing, too, to lighten the load for the rest of the walk home.
So the day is coming to a close and I'm ready to put these tired feet up and won't have to ask How much farther until tomorrow, when I'll take her arm and she'll pull me along and we'll laugh and keep moving because there's so much for her to show me yet! Stay tuned …

It's nearly 10 a.m. on Saturday morning and I am NOT studying, NOT rushing to beat a deadline, NOT frantically looking for one more resource to beef up a reference list. I AM having a ball here in my special kitchen, just me, some great music –
Transiberian Orchestra
turned up loud – a couple phone conversations, plans to visit my favorite Auntie Arlene in a few hours and NO deadlines for the next several days at least. I AM a happy woman. This is in stark contrast to the last two weeks. I had talked to Auntie Arlene and told her I'd visit in two weeks and probably not call before then either. What a great niece 🙂
The fall term ended last night at 10:59 pm CST – with six minutes to spare, literally, I was submitting my final exam – too close for comfort! Two exams last night – went okay, As, but not 100s; results of the last two weeks' papers still out, but I'm done! I told my brother, Steve,this morning that I can breathe; the heavy weight is off my chest. And I can dance around my kitchen, having a blast with my own self. God is good.
Less than five days till I'm hugging my ErinLee – counting down and so looking forward to holding her and burying my face in her hair!! Now I'll do some laundry, begin to pack the bags, clean the house, all those weird /">going away things I inherited from my mom, though she denies it:)
As the French say, tu connais la musique – translated you know the deal (literally, you know the music) I do know the music and I'll be doing my thing today, thankful to have completed the term, happy to feel so much lighter and off for a day of visits and errands and life is very good!

I haven't written about Sparkles in a while, but I got a good-sized dose of them today.  In with the beauty was a lesson and that is another Sparkle in and of itself.  What is this about anyway?  To keep y'all in suspense (ancient literary secret) we'll talk about the lesson first.  Let's begin with a question.  Is okay really okay or is it just acceptable and maybe not okay at all?  Don't you love words?
I had an experience at the end of last week that several people told me was okay.  Obviously I wasn't feeling that way or folks wouldn't have felt the need to tell me it was.  Regular readers will know that I don't believe in dwelling in the negative – word or thought.  So I had my experience, was disappointed, expressed it to three people close to me and received that okay response.   I processed those responses, my own reaction, chalked it up to did-my-best and moved on.  Healthy, right?
Today, it was brought back to me in a most Sparkly way!  An unanticipated action  far beyond my control and the picture was altered.  I felt amazingly different.  Why?  Had I changed?  Was I a better person?  Not at all and a lesson I love to share looked me right in the eye.   I was good enough before this Sparkle occurred; I was just as worthy and valuable last week as I am today.  Why?  Because, my friends, my worth and my value is not about what I do, it's about who and what I am.
Nothing like having your attitude adjusted with your own words, like a cosmic kick in the behind, though I'm not as into the cosmic thing as I am the belief that my Heavenly Father makes use of every teachable moment.  That was my Sparkle for the day – another reminder that we have value because we have it; it is unconditional and not tied to any achievement.  What a gift!  I'm accepting it and thanking my Father for His blessings and His lessons.

Oh yeah, the disappointment, the okay thing?  I got a B instead of an A on a tough class just completed.  The Sparkle?  Found out today that the professor rounded up, if you will, and gave me the A after all.   And B was okay, but bottom line, in all honesty, I'm lovin' the A.  In my secret heart, A is still better, but I'm a work in progress and will absolutely get this value and worth issue more deeply embedded in my heart and soul as I grow.
My prayer is that you, too, will have a deeper sense of your worth and your value and if you want some encouragement, come on along – it is a worthy journey.